I AM Yoga® Advanced: Meditation in Motion – Certification Only in Rhode Island
with Indu Heather Eilering
March 6 - 17, 2019
Meditation in Motion
Consciously Cross Over From Physical Yoga To The Yoga of Prana
Using the lens of correct knowledge and direct experience, this Immersion transforms yoga sadhana into a yogic way of life attuned to the energetic expression of the vital life force of prana. This advanced training builds on the I AM Yoga™ Teacher Training Posture of Consciousness format and enables you to "consciously-cross-over" from the willful practice of postures to a dynamic blend of willful postures and spontaneous movements prompted by the inner urgings of prana.
The training incorporates:
Two daily Sadhana sessions
Simple breathing techniques to cultivate an attunement to prana
Specific techniques to help you connect with the natural intelligence of prana
Understand & experience the deeper energetic meaning of the yogic scriptures
Part 2: Meditation in Motion Certification – March 6-10 & 13-17, 2019
This training provides a unique energetic group setting to support and nurture the cultivation of the attunement to prana experienced in the I AM personal sadhana Immersion. It reveals the innermost depth of I AM Yoga® where you experience Pranakriya; the harmonious interplay between energy [prana] and the mind [chitta].   The certification component provides the understanding, techniques and direct experience necessary to layer I AM Yoga™ onto any style of hatha yoga.
Teachers from Traditions other than I AM Yoga
For 200 hour certified yoga teachers from other traditions we require completion of the Posture of Consciousness Intensive Online Course in order to receive a 200 hour certification from the Amrit Yoga Institute.
Leader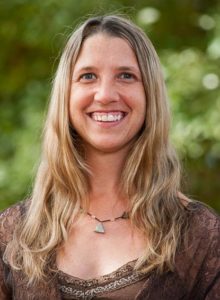 Indu Heather Eilering
Senior Training Faculty, Amrit Yoga Institute E-RYT 500, C-IAYT, ALC, BS Indu has devoted the last 10 years to support her students and clients in their quest to live healthy, vital, and fulfilling lives. Her previous experience owning a yoga studio and current role at the Amrit Yoga institute has allowed her to utilize her skills as an Amrit Yoga Teacher, Yoga Therapy Practitioner, Yoga Nidra Facilitator, Ayurvedic Lifestyle Consultant, and Energy Worker to skillfully and compassionately support her students and clients to transform their lives.
Learn more about Indu Heather Eilering