I AM Yoga Nidra™ Certification, Iceland
with Kamini Desai, Ph.D
December 5 - 8, 2019
Prerequisite: Yoga Nidra Immersion
Yoga Nidra Certification is a continuation of the yoga nidra immersion. This course of study deepens and enhances your understanding of the scientific basis of yoga nidra. We will look into research verifying its benefits and the changes happening in the brain while in yoga nidra. Combining science and the ancient wisdom of yoga, you will understand how to apply yoga nidra to conditions such as:
Stress
Habits and Addictions
Trauma and PTSD
Depression, Anxiety and Insomnia
This course of advanced study will give you the skills to guide others in yoga nidra, but is also appropriate for your own transformation. You will receive your own unique yoga nidra card deck system which will allow you to easily create your own yoga nidra experiences.
This training is an excellent addition for psychologists, mindfulness practitioners, bodyworkers, yoga teachers, health, helping professionals, hypnotherapists and energy healers looking for new tools to serve their clients.
What's Included:
Accomodation and vegetarian meals
Full training
Yoga Nidra Manual and Yoga Nidra Cards
Certification
What to Bring:
Bring a yoga mat and whatever you need to sit and lie on the floor or in a chair comfortably. Equipment is also available at the location but bring anything you want to be sure to have.
We will do yoga nidra at least twice a day. Bring whatever you may need to lie down comfortably (sitting against the wall or in a chair is also an option).
Bring a shawl or blanket to cover yourself.
Bring water in a container with a sealable lid.
Bring a notebook and pen.
Wear comfortable clothing.
Lead Teacher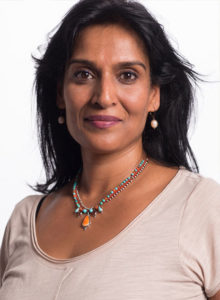 Kamini Desai, Ph.D
Yogeshwari Kamini Desai, PhD is the Executive Director of the Amrit Yoga Institute. Over the past 30 years Kamini, author of Yoga Nidra: The Art of Transformational Sleep, has created an exciting and unique body of teachings incorporating western psychology, eastern philosophy and science. Considered an expert in Yoga Nidra Meditation, relaxation, yoga therapy and artful living, her practical and accessible teaching style is welcomed worldwide. In 2012 she was awarded the title Yogeshwari (woman of yogic mastery) for her keen ability to bring ancient illumination to the genuine challenges of the human experience. Her teachings have benefitted employees at Sony, Kelloggs, KPN Telecom, Mars Confectionery, the Department of Corrections and Departments of the Netherlands Government. Learn more about Kamini Desai, Ph.D
Learn more about Kamini Desai, Ph.D