I AM Yoga® Teacher Training – Immersion Retreat
With Nirali Lauren McCrea and Gurudev Shri Amritji
April 7 - 12, 2024
Energize Your Yoga Practice
I AM Yoga® Teacher Training is so much more than becoming certified as a yoga teacher.  It is an entry point for you to access the mysterious depths of yoga and experience its authentic origins.
In these times, yoga has become massively popular. Ancient practices previously unknown to the Western World have become ubiquitous and mainstream. What were once carefully kept secrets are now easily available. In modern yoga practice, what's missing is not technique; we know what to do and where to learn more. What's missing is how to approach the practice of yoga in a way that progressively awakens the experiential depths of peace and integration which it was born to unearth within each one of us.
"Yoga is not a practice that you do. It's an experience that you have."

~ Gurudev Shri Amrtji
---
The Key Elements of I AM Yoga®
The Inner Dimension of Yoga
I AM Yoga® merges what we study and what we practice into one unified system. Finding inspiration in ancient yogic texts, I AM Yoga® trains practitioners to dynamically weave the teachings of these scriptures into their yoga practice, blending knowledge and experience into one embodied expression. Our method equips its practitioners to expertly decode the original teachings of yoga, unveiling its precision in meaning, relevance, and modern application in today's world.
The First Half of the Pose
The First Half of the Pose is the yoga pose (asana) itself. I AM Yoga® poses are built on a shared foundation of alignment and the intention for integration. They are performed with deliberate action, attention to physical alignment, and bodily-centered awareness. It is here that we engage in physical discipline with respect to the body's limitations.
Press Points and Energetic Extensions
Our practitioners are expertly trained to incorporate what are called "press points" and "energetic extensions". These are equal and opposite anchor points which are simultaneously and deliberately engaged within the body to enliven and maximize the physical and energetic benefits of each pose.  These not only strengthen and open the body, they encourage precise alignment and greater stabilization within each pose. Regardless of physical ability, these lines coax the body to progressively open, which naturally and automatically matures our practice over time.
The Edge
When yoga poses are practiced with earnestness and precision, we reach a natural stopping point, or edge, where we cannot go any further. In I AM Yoga®, our individual pose is considered fullest when we reach this stopping point – even if our edge shows up before the pose technically reaches full expression. I AM Yoga® handles this edge with "skill in action", employing specific techniques to work consciously with the intensity induced by our yoga poses, as they are practiced.
Yoga as a Tool for Life Mastery
As the duration in the pose increases, intensity builds, whether in the form of increased sensations, or, mental and emotional activity. This is where the life-transformative impacts of yoga begin. Instead of engaging the mind, backing away from intensity, or tolerating the pose until it's over, we practice staying present and observant to the direct experience of the pose. This serves as a training ground to master the art of relaxing and meditating under pressure. Instead of changing the pose to change our experience, we learn to change the way we relate to the pose to change our experience. This is a transferable skill we can later apply to any situation we encounter in life.
 "If it does not change your life, it is not yoga."

~Gurudev Shri Amritji
Yoga is not just a practice that happens on the yoga mat, or for one hour a day. Yoga is a lifestyle, something that you will learn to embody in everything you do.
Energy Follows Attention
Sensation is the only language our bodies know to speak with us in According to yoga, sensation and energy are not separate. The same energy the mind uses to produce thought is the same energy the body uses to sustain, heal, and connect us with universal intelligence. In I AM Yoga®, we are learning to re-direct our attention from habituated mental activity into the felt experience of the body. The more attention we place on feeling, the more our mind automatically quiets down. This simple process unbinds and profoundly amplifies the potential energy necessary to awaken yoga's infinite potential.
The Second Half of the Pose
In the Second Half of the Pose, we consciously transition from extended holding of the posture into completely letting go. Without this space for connection and integration, no matter how well our postures have been performed, the practice remains incomplete. This is an integrative process where the inner dimension of yoga unfolds, harmonizing the innate wisdom of the body with the mental and emotional counterparts of the psyche. During this respite, the therapeutic benefits heighten, the energetic impact magnifies, and the meditative depths awaken.
---
The I AM Yoga® Level 1 Immersion
A residential intensive designed to develop aspiring and advanced practitioners alike. Whether you are looking to deepen and energize your current practice or are seeking the guidance necessary to begin a profound yoga journey, this program provides a life-long foundation for you to practice from.
Training in the I AM Yoga® tradition provides master level guidance suited for every-body. Throughout our intensive, we will follow the Yoga Sutras as our roadmap while employing the specific tools of I AM Yoga® to bring the relevance of this ancient knowledge into our current experience. Not only will you leave equipped to practice yoga poses with precision and in the unified manner in which they were originally inspired, but, more importantly, you will leave empowered to carry the experience of integration into your daily life activities.
This Immersion is for:
Teachers in Training: The Level 1 Immersion is the first half of our yoga teacher training for those wishing to become a Yoga Alliance Certified professional 200-hour yoga teacher (RYT-200 Designation)
Personal Immersion: A complete Life Mastery Program designed for anyone wishing to immerse in yoga's authentic roots, even if you never plan to become a yoga teacher.
Continued Education: Ideal for certified yoga teachers of any tradition looking deepen and mature in personal practice and bring greater depth and precision to what you already are teaching
Features
Under the direct guidance of our expert faculty, you will receive:
Transformational discourses with International Yoga Master, Yogi Amrit Desai (Gurudev Shri Amritji)
The I AM Yoga® perspective on energy, anatomy, pranayama (breathing techniques) and meditation
Instruction, practice, and hands-on direction in small group posture clinics
Yogic principles to build physical, mental, and emotional vitality
The tools necessary to practice yoga poses not not simply as a form of physical exercise, but as a medium for self-study and personal transformation
Practical techniques to move from everyday mental and emotional disturbances into lasting peace and well-being
Includes the official comprehensive I AM Yoga® Training Manual
Benefits
Maximize the expression and energy flow of every posture through the application of "press points" and "energetic extensions", a unique feature to I AM Yoga®
Build strength, alleviate stress, and learn how to use yoga practice to rebalance and restore the nervous system
Recognize and release behaviors that are affecting your health and wellbeing
Reclaim your peace by understanding how our habituated mental and emotional patterning obscures our ability to fully access personal freedom and well-being.
---
Lead Teachers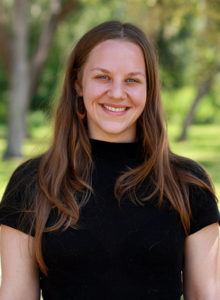 Nirali Lauren McCrea
Yogacharya and Senior Training Faculty. Nirali synthesizes the power of breath, bodily wisdom and meditative awareness to experientially guide students into the heart of yoga. Finding solace on the mat as a young teen, Nirali has immersed herself in the depths of yoga for 20 years. Inspired to move to the Amrit Yoga Institute in 2009, she has extensively trained in the I AM Yoga® approach ever since. For over a decade, Nirali has helped oversee the development and reach of education offered by the Amrit Yoga Institute and has led seminars across the United States, Canada, Mexico and India. In 2021, she was awarded the title "Yogacharya" by Gurudev Shri Amritji, acknowledging her lifelong dedication to yoga and unique ability to decode and impart its practical and mystical subtleties. Today, she is the lead faculty of the Level 1 I AM Yoga® 200-hour Teacher Training, offers free weekly classes…
Learn more about Nirali Lauren McCrea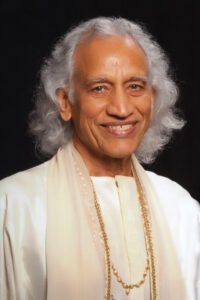 Gurudev Shri Amritji
Gurudev Shri Amritji is the first disciple to bring the sacred teachings of the Lord Lakulish (Shiva) and Kripalu Lineage to the West in 1960. Gurudev was personally empowered to give shaktipat by his Guru Swami Shri Kripalvanada. In 1970 Gurudev experienced a spontaneous awakening of the Soul Being Presence that I AM. This was reinforced by a three month meditation retreat in silence and seclusion. He emerged as a spiritual master embodying the rare capacity to transmit profound healing and transformative prana Shakti through energetic transmission. He discovered the body is the book of secrets; it is the temple of prana Shakti, and heart is the center of Shiva consciousness. Gurudev is repeatedly honored by prestigious organizations and world-renowned authorities in the East and West. You can learn more about Gurudev Shri Amritji at https://amritji.org He comes from an ancient lineage of energetic transmission and his teachings have ignited the fire…
Learn more about Gurudev Shri Amritji