Journey through the Chakras: Sound Bath Yoga and Yoga Nidra Retreat
With Gurudev Shri Amritji, Bhavaani Deanna Gray, RYT-500 and Bhairav Curt Gibson, RYT 200
September 24, 2023
REGISTRATION OPEN FOR CHAIR SEATS ONLY (MEANING NO ROOM FOR A YOGA MAT OR LAYING DOWN)
Journey through the Chakras
Sound Bath Yoga & Yoga Nidra Retreat
Sunday, September 24, 2023
9:00 – 10:30 am Sound Bath, Yoga and Guided Yoga Nidra
11:00 am – 12:00 pm Darshan with Gurudev Shri Amritji
Join Gurudev Shri Amritji, Bhavaani Deanna Gray and Bhairav Curt Gibson for an experiential journey through the seven major energy centers along the spine, the chakras.
Sound Bath, I AM Yoga® and I AM Yoga Nidra™
Bhavaani will guide you through gentle I AM Yoga® postures that help release energy blocks while Bhairav sounds the crystal bowls, followed by a guided I AM Yoga Nidra™ meditation. This gentle practice is great for all levels, including beginners.
Discover the relationship between the chakras and the heart, mind, body and soul. Through understanding the chakras there is an opportunity to deepen the understanding of ourselves.
Singing crystal bowls are known for promoting relaxation and healing through sound vibrations. The seven pure quartz crystal bowls are tuned to the energy frequency of each of the seven major chakras located along the spine. This practice balances the chakras and clears energy blocks that can lead to imbalance in the body.
The energetic frequency of the crystal bowls calms the nerves, relaxes the body, clears the mind and opens the heart. It naturally creates the shift from thinking mind to feeling energy body of Timeless Presence Now (God) within.
Scientific studies have found Yoga Nidra reduces anxiety and stress, slows the body's brainwaves into Alpha, Theta and Delta where our bodies can relax deeply, offload stress and unleash the healer within.
Transformational Discourse with Gurudev Shri Amritji
When you have completely withdrawn from thinking ego-mind, you have dropped into the feeling body of the Timeless Presence. You are unconditionally present. You are in harmonious co-creation with the heart and the higher centers of consciousness.
Learn how to reconnect with the power of the Heart chakra and Third Eye-Anja Chakra to be released from memory stress and energy blocks. Once you learn this technique, you can free yourself from stress and its related problems, such as anxiety, fear, insecurity, sleep disorders, and relationships issues.
This will allow the body to carried out self-healing, self-balancing transformative functions, without you being the doer and achiever of it.
Lead Teachers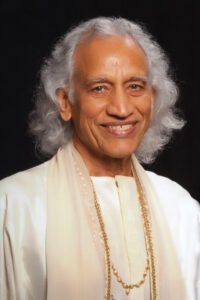 Gurudev Shri Amritji
Gurudev Shri Amritji is the first disciple to bring the sacred teachings of the Lord Lakulish (Shiva) and Kripalu Lineage to the West in 1960. Gurudev was personally empowered to give shaktipat by his Guru Swami Shri Kripalvanada. In 1970 Gurudev experienced a spontaneous awakening of the Soul Being Presence that I AM. This was reinforced by a three month meditation retreat in silence and seclusion. He emerged as a spiritual master embodying the rare capacity to transmit profound healing and transformative prana Shakti through energetic transmission. He discovered the body is the book of secrets; it is the temple of prana Shakti, and heart is the center of Shiva consciousness. Gurudev is repeatedly honored by prestigious organizations and world-renowned authorities in the East and West. You can learn more about Gurudev Shri Amritji at https://amritji.org He comes from an ancient lineage of energetic transmission and his teachings have ignited the fire…
Learn more about Gurudev Shri Amritji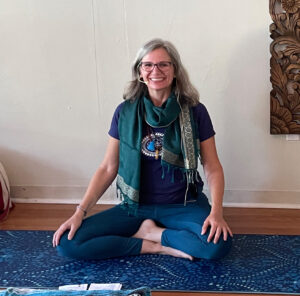 Bhavaani Deanna Gray, RYT-500
Back pain from working on the computer lead Bhavaani to yoga. In 2017 Bhavaani signed up for a hot yoga teacher training to bring discipline to her practice. But what she received was so much more! She gained not only physical strength, but also mental clarity and spiritual connection. Yoga brought so much positive change in her life she was inspired to share what she learned. She knew teaching yoga was her path. She studied the the authentic teachings of yoga from Gurudev Shri Amritji at the Amrit Yoga Institute in Salt Springs, Florida. There she earned 500-hours in Yoga Alliance certifications. She is currently enrolled in the Amrit Institute's 800-hour Yoga Therapy Certification. She's excited to continue on her journey of transformation and hopes to inspire and support others who are on this path of self-discovery.
Learn more about Bhavaani Deanna Gray, RYT-500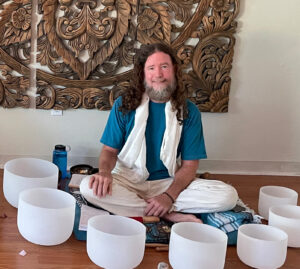 Bhairav Curt Gibson, RYT 200
Bhairav's introduction to yoga came at an early age, when his mother would take him along with her to the local YMCA for her yoga classes. After practicing hot yoga himself for several years, as a way to condition his body for working outside during the Florida summers', he completed his 200 hour Hot Yoga teacher certification. Wanting to deepen the spiritual component of his yoga practice, he traveled to India for a 100 hour I AM Yoga Nidra training with Kamini Desai and Shri Amritji of Amrit Yoga Institute. After completion of this certification, he was drawn to a second 200 hour teacher training of Amrit Yoga Level 1. It was through these teachings he found the way to travel in equanimity during his practice. He also provides sound therapy using 7 Quartz crystal bowls. He is excited to reveal what he has learned with you as he continues…
Learn more about Bhairav Curt Gibson, RYT 200