I AM Yoga Nidra™ Immersion (On-Demand)
With Kamini Desai, Ph.D
Open Dates
Sleep Meditation: Rest, Recharge and Recreate Your Life from the Inside Out
Utilizing the practice of I AM Yoga Nidra™ this Immersion provides a unique and transformative map to life mastery where we lay out the ancient spiritual foundations of Yoga Nidra including the Kleshas, Koshas, Turiya and the science behind the brainwaves to understand how our lost connection to essential wholeness results in stress, living in unconscious repetitive karmic patterns, and robs us of our health, vitality and fullest potential. As a result of an anxious mind and tired body, conditions such as dis-ease, depression, stress, anxiety, and sleep problems set in. We can no longer access our highest self-expression and greater purpose.
Combine the Benefits of Mindfulness Meditation with Deep Relaxation
With our exclusive five-tool approach and in-depth practice of Yoga Nidra, you will experientially empower yourself to reverse this attack and shift these undesirable effects at the causal level. You will be able to reshape your life with one of the simplest, most profound techniques ever created. To promote lasting shifts at deeper energetic and cellular levels, each teaching is accompanied by a uniquely formulated Yoga Nidra experience.
The Highest Quality Sleep Meditation Training
I AM Yoga Nidra™ training is considered one of the 5 major schools of Yoga Nidra, offering in-depth, high quality immersion training for the past 20 years. This training is facilitated by internationally recognized leaders and educators in the field of Yoga Nidra.
Features:
Address insomnia and other sleep problems with Yoga Nidra as an aid to rejuvenative sleep.
Guidance on How to Practice yoga nidra for optimal results
Deeply rest, recalibrate, and develop a resilient brain by fostering a healthy relationship with yourself.
Surface old thinking patterns and learn to re-wire them from beyond the mind.
Discover the wealth of insight underpinning Yoga Nidra, the science behind the brainwaves, & common healing experiences.
Create & incorporate core intentions with the practice to profoundly heal, restore, and free yourself from an unresolved past.
Find out why I AM Yoga Nidra™ is known as "The Deep One"
Immerse yourself in ancient and authentic teachings passed down and transmitted directly through a Lineage of Yogic Masters
Includes Digital Manual
Benefits:
Create the Life You Want rather than the one your habits choose for you. Experience profound healing and the restoration of the body's reserves by tapping into its innate intelligence.
Cultivate healthy sleep to address insomnia, sleep debt and other related problems. (45 minutes of Yoga Nidra is as restorative as three hours of sleep.)
Discover a natural approach to pain management and release chronic tension
Learn skills to master the demands of life and live with more peace and ease.
Important Information
Yoga Nidra: The Art of Transformational Sleep By Kamini Desai is strongly recommended for the Immersion and required if you are on the Certification track. It may be purchased as a paperback here: https://iam.yoga/shop/books/yoga-nidra-art-transformational-sleep/.
Course materials are digitally provided for convenience. They can be downloaded from the FILES section of your course and printed at home or you can order hard copies and have them professionally printed at additional cost. Instructions provided inside course.
There are two tracks that make up the I AM Yoga Nidra™ Professional Training:

 I AM Yoga Nidra™ Immersion (that is this course and can be done on its own for personal benefit)
 I AM Yoga Nidra™ Certification (I AM Yoga Nidra™ Immersion is a prerequisite to the Certification and if you want to take the Certification you will need to separately register at https://amrityoga.org/)
Designed to create a transformational shift that will change the way you interact with life.
Course is non-refundable once purchased
You will have up to 90 days to complete the course. Ideally, allow 15 days to complete the training and if you are planning to do the Certification finish the Immersion 4 days before the start of the Certification.
If you wish to continue accessing the course you can extend access to e-courses for a small additional fee using this form: https://amrityoga.org/forms/ecourse-extension-form/
Enroll today and get started with one of the easiest and most effective mindfulness meditation practices you'll ever come across!
50 Hours
Lead Teacher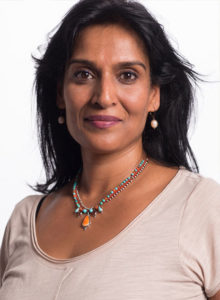 Kamini Desai, Ph.D
Yogeshwari Kamini Desai, PhD is the author of Yoga Nidra: The Art of Transformational Sleep, has created an exciting and unique body of teachings incorporating western psychology, eastern philosophy and science. Considered an expert in Yoga Nidra Meditation, relaxation, yoga therapy and artful living, her practical and accessible teaching style is welcomed worldwide. In 2012 she was awarded the title Yogeshwari (woman of yogic mastery) for her keen ability to bring ancient illumination to the genuine challenges of the human experience. Her teachings have benefited employees at Sony, Kelloggs, KPN Telecom, Mars Confectionery, the Department of Corrections and Departments of the Netherlands Government. Learn more about Kamini Desai, Ph.D
Learn more about Kamini Desai, Ph.D