Full Day Mystical Immersion with Bhagavan Das + Amulya Maa and Gurudev Shri Amritji
With Gurudev Shri Amritji, Baba Bhagavan Das and Amulya Maa, MS, LMT
July 10, 2022
Join us at the Amrit Yoga Institute for a full-day mystical immersion of sacred satsang, ecstatic chanting and wisdom teachings with Gurudev Shri Amritji, Bhagavan Das + Amulya Maa.  
$99.00. Advanced registration required.
Immersion Schedule
11:00am-12:00pm EST Live Darshan and Quantum Breath Meditation with Gurudev Shri Amritji
12:00pm-2:00pm EST Please bring a lunch to enjoy amidst the lush tropical gardens and peaceful sand beach on the six-acre campus at the Amrit Yoga Institute
2:00pm-5:00pm EST Ecstatic Kirtan, Sacred Satsang and Mantra Initiation with Bhagavan Das + Amulya Maa
Bhagavan Das and his wife Amulya Maa share the profound teachings of the Saints and offer a powerfully transcendent chant experience as their Hearts & Voices merge in Devotion to the Divine.
One of the last living spiritual musician icons of the 1960s, Bhagavan Das is the 1st Western devotee of Neem Karoli Baba, subsequently introducing Ram Dass to Maharaji and gaining international fame by being featured in the book "Be Here Now." Bhagavan Das has received blessings & initiations from many Saints, including Anandamayi Ma, Lama Kalu Rinpoche, Chogyam Trungpa, Baba Hari Dass, Prabhupada & Amma. He has performed with The Grateful Dead, Bob Dylan, Sting and many others. Having recorded 22 albums in his lifetime, several will be released for the first time in the upcoming year, along with brand new recordings on the horizon with Amulya Maa – so stay tuned.
Together, Bhagavan Das + Amulya Maa offer online yoga mentorship sessions, as well as private retreats at Maa Sanctuary – their home temple space.
To learn more about their current offerings, please visit them online at https://BhagavanDas.com and https://AmulyaMaa.com
Gurudev Shri Amritji is the original carrier of the Kripalu Shaktipat Lineage to the West. The uniqueness of his contribution to the world of yoga comes from his own spiritual awakening in 1970, his direct experience of the mystic union of consciousness and energy. This revealed to him the esoteric mysteries as taught by the ancients lie hidden within the body itself, waiting for any practitioner to discover them.
He is the founder and creator of I AM Yoga®, a tangible method of practice that makes the mystic teachings accessible and practical, leading to a deep experience of the spiritual dimension through the synthesis of body, mind, heart and Soul. It opens the door to Self-discovery, the Source of Love and compassion that is inborn within every human Being.
Want to attend, but can't come in person?
Register for our Live Online Zoom Event instead: https://ecourses.amrityoga.org/catalog/info/id:401
Lead Teachers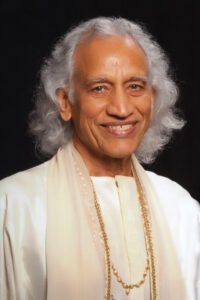 Gurudev Shri Amritji
Gurudev Shri Amritji is the first disciple to bring the sacred teachings of the Lord Lakulish (Shiva) and Kripalu Lineage to the West in 1960. Gurudev was personally empowered to give shaktipat by his Guru Swami Shri Kripalvanada. In 1970 Gurudev experienced a spontaneous awakening of the Soul Being Presence that I AM. This was reinforced by a three month meditation retreat in silence and seclusion. He emerged as a spiritual master embodying the rare capacity to transmit profound healing and transformative prana Shakti through energetic transmission. He discovered the body is the book of secrets; it is the temple of prana Shakti, and heart is the center of Shiva consciousness. Gurudev is repeatedly honored by prestigious organizations and world-renowned authorities in the East and West. You can learn more about Gurudev Shri Amritji at https://amritji.org He comes from an ancient lineage of energetic transmission and his teachings have ignited the fire…
Learn more about Gurudev Shri Amritji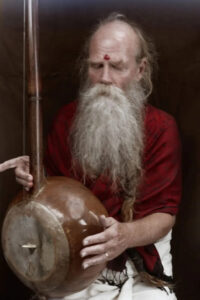 Baba Bhagavan Das
In 1963 at the age of 18, Bhagavan Das traversed the globe to live in the jungle of the Himalayas as a hermit-sadhu. He was given the holy name of Ram by Maharishi Mahesh Yogi. He then received daily tapas from Swami Chaitanya Prakashananda Tirth to open to God's Grace. In 1965, after a year of fasting, prayer and intense purification, Bhagavan Das met his Sat Guru, the Mahasiddha Neem Karoli Baba (Maharaji) who he lived with side by side for 6 years. Maharaji sent him to Anandamayi Ma to receive initiation from the Divine Mother. Later he lived with Lama Kalu Rinpoche, the guru of the 16th Karmapa. He gave Bhagavan Das the Mahamudra transmission. Bhagavan Das received the Clear Light of Primordial Awareness from His Holiness Dudjom Rinpoche and then the Vajra Yogini  transmission directly from the 16th Karmapa in Sikkim. He lived with Yogi Chen who explained all the…
Learn more about Baba Bhagavan Das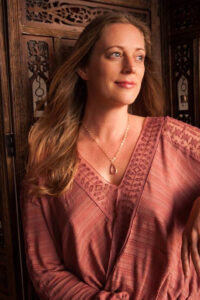 Amulya Maa, MS, LMT
Amulya Maa, MS, LMT has been a yoga & meditation practitioner for more than 25 years, and dream yoga since she was a little girl. As a Mystic, Muse & Lover of Life, Amulya Maa is an advanced Vipassana meditator, having completed eleven 10-day retreats and maintaining a consistent Vipassana practice 2x/day. She is a bhakti yogini and tantrika who deepens her practices through the Tibetan Buddhist Vajrayana lineage. Amulya received the name "Sangay Dolma" from the Venerable Lama Gyalsten when she was initiated into the Shangpa Kagyu lineage of the great Lama Kalu Rinpoche. Sangay Dolma means "Clear Buddha with feminine form". For several years, Amulya served alongside the great humanitarian saint Amma Amritanandamayi Ma, who gave her the name "Amulya" in 2009. Amulya means "priceless, precious, and of a value too great to measure." As an alchemist, Amulya Maa facilitates transformational healing and heart path awakening through spiritual and…
Learn more about Amulya Maa, MS, LMT