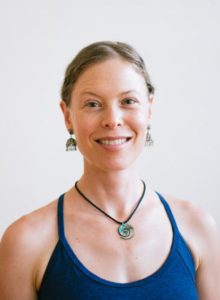 Greetings from my heart to yours. I am native to the Colorado mountains. Their wildness and beauty was my first yoga teacher. I am a seeker, adventuress, and explorer, willing to test my limits in order to learn and grow.
The sacred, timeless knowledge and practices of Yoga and Ayurveda are among the greatest gifts available to humanity. The power and purpose of Yoga is nothing less than to know who we truly are and to realize it so fully that it becomes our worldly experience. This gift of Yoga is being given to me with utmost loving care by my teachers, who are first and foremost dedicated seekers and practitioners. Receiving this gift has made my life a path of continuously unfolding Self-discovery, healing, and service.
I am so inspired to engage in a practice that is about ultimate empowerment: eliminating all self-caused suffering. The beauty of the yogic path is that we do not have to be perfect, ever. We need only to be willing to be right where we are with the intention to be total. Our birthright and potential as human beings is to return to connection with Source and be the creators of peace and harmony. This potential remains at our core no matter how far from the Source we may stray.
My commitment is to awaken this potential within myself, and to make my whole life a practice of integration. My passion is to serve anyone with sincere desire to optimize health and harmony through personal responsibility and empowerment. Through education and facilitation, my work supports individuals in all walks of life in the cultivation of health and integration. The tools we use are proven (10,000+ years' old systems of Self-realization and healing). The practice takes you beyond conceptual understanding into experientially evidenced knowing. The work is a process we co-create. It is focused on revealing the root of our suffering, recognizing our true nature and how it shows up at all levels, and removing the blocks to our innate health, strength, peace, and contentment. Through this elegantly simple yet profoundly transformative system of understanding and practice, we discover that we can harness the changing experiences and challenges of life toward ever-deepening levels of integration.
What I see is that whenever we as individuals can wake up out of conflict and shift into co-creative interaction, we bring harmony to what is present. When we are balanced, we bring balance. When we respond rather than react, we create solutions instead of problems. This individual, moment-by-moment practice of integration is how we bring peace to our loved ones, families, communities, society and world. The understanding of the nature of health and what supports health is what brings healing to our own bodies and minds, and to our families, communities, and our Earth.
Now is the time for us to be here. Now is the time to awaken.
I am grateful that you are here. Explore. Enjoy. Join me in discovering the PranaBeing that you are. Make your contribution to this world by living empowered, centered in your unlimited Source, acting in service of your heart's deepest wish!
Again, I greet you from the heart. At the deepest level, we are not separate. You truly are my Self.
Namaste and Jai Bhagwan (Victory to the indwelling spirit)!
Historical and Training Details
This year I celebrate 16 years of study under the direct guidance of Yogi Amrit Desai and his daughter, Yogeshwari Kamini Desai, PhD. I am trained in the Integrative Amrit Method (I AM) of Yoga, Yoga Nidra, Quantum Breath Meditation and Body Psychology (Yoga Therapy), as well as certified in Thai Yoga Therapy through the Ritam School of Healing Arts (Saul David Raye) and Marma Chikitsa (Ayurvedic practice of working with vital points on the body through acupressure, vibrational stimulation, and medicinal oils) through the Ayurvedic Institute (Dr. Vasant Lad). In October, I will complete a 625-hour training to become a Certified Ayurvedic Wellness Counselor through Kerala Ayurveda Academy (Dr. Jayarajan Kodikannath et al).
I was fortunate to live and serve at the Amrit Yoga Institute in Salt Springs, FL for more than four years. My 11‐year career in nonprofit administration culminated in the role of Executive Director there. In October of 2017 I was officially named as a Senior Teacher of the Lineage of Lord Lakulish, Swami Shri Kripalvanandji and Gurudev Shri Amritji. I continue to work closely with Gurudev and enjoy a full-time practice of sharing these teachings as I receive, explore and embody them. I offer individual sessions, classes, workshops, and retreats and also serve as Senior Training Faculty for the Amrit Yoga Institute. I am especially grateful for all that I continue to receive through the I AM Yoga Lineage. These revolutionary teachings bring penetrating insight that allows me to plumb the depths of any other training or methodology I explore, as well as intuitive impulse that guides me to apply what I learn in the most effective ways.
Like many, I began practicing yoga postures with goals of maintaining and improving flexibility, balance and physical alignment. I did not expect yoga practice to change my whole experience of life. After a three-month stint of self-guided daily practice using Yoga The Iyengar Way, the book by Silva, Mira and Shyam Mehta, I began to notice psycho-emotional changes. This was my first glimpse that there was more to yoga than poses on a mat. In 2003, I completed Integrative Amrit Method of Yoga Level 1 Teacher Certification. The immersive training reawakened a deep, embodied knowing that life is magical, synchronistic, intelligent and interconnected. I lived this way as a child, but as a young adult I had already begun to forget.  The Amrit Yoga experience was a turning point.
Prior to beginning the practice of yoga, I had been doing my best to explore and contribute as a Colorado College graduate, world traveler, and nonprofit sector professional. I AM Yoga opened a new way of engaging with life. As the true power of Yoga is progressively revealed to me through practice, my heart opens in gratitude. My mind opens in wonder. I become more available to be present to what is, to allow life's mysteries to reveal themselves. I am fascinated by the art and science of Yoga and Ayurveda. It delights me to see that Western science is validating their effectiveness. Western science is just beginning to consider the truths of timelessness, unity, innate health and harmony on which the ancient wisdom traditions are founded.
Yoga Alliance Disclaimer
The yoga therapy components of my teaching are based on my training through Ritam School of Healing Arts, Amrit Yoga Institute, The Ayurvedic Institute, and Kerala Ayurveda Academy, Member Schools of The International Association of Yoga Therapists and the National Ayurvedic Medical Association; not derived from my status as an E-RYT with Yoga Alliance Registry.