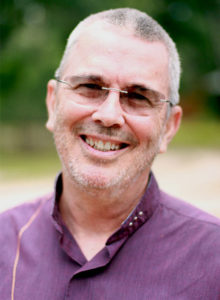 Yogacharya, Meditation in Motion™ Lead Revealer
Chandrakant is a senior teacher and seminar leader at the Amrit Yoga Institute in Salt Springs, Florida. He prepares, presents and leads professional trainings both nationally and overseas in the Integrated Amrit Method, Amrit Yoga, Amrit Yoga Nidra and the Quantum Breath Meditation, as well as a variety of other yoga and stress-reduction based programs. For the last eight years, Chandrakant has been instrumental in developing and presenting programs for the Amrit Yoga Institute. As a student and practitioner of yoga and meditation with Yogi Amrit Desai for almost forty years, his experience has given him a solid foundation for implementing programs that nurture and encourage positive changes in behavior and understanding through direct perception.
In 2008, Yogi Desai bestowed upon Chandrakant the title of Yogacharya, preceptor of Yoga. This is the same title that Swami Shri Kripalunanda bestowed upon Yogi Desai in 1972.
Chandrakant is a preacher's son, a Vietnam era veteran, a graduate of Rutgers University with a degree in psychology and a longtime practitioner of the martial arts. He brings a unique blend of street-level experience, understanding and practical psychology to all his seminars and workshops, conducting programs for educational organizations, recovery groups, community service agencies, hospital staff and large corporations, as well as yoga and meditation groups.
Events with Chandrakant