I AM Yoga Therapy™ Body Psychology Training in Fairfield, CT
with Chitra Marie Bailey
September 11 - October 27, 2019
at Yoga for Everybody, Fairfield, CT
Part 1: September 11-15, 2019
Part 2: Oct 23-27, 2019
Life is energy. It is meant to flow through us, each time leaving us broader, richer and evolving us for having known it. When we experience more intensity than we can handle, we shut this process down and create blocks in the body. The Amrit Method of Yoga Therapy is designed to not only treat visible physical symptoms, but is aimed at addressing the invisible mental and emotional blocks that contribute to them. Using gravity supported, static poses held by the facilitator, or with the use of the wall or props ,you will learn how to surface and release blockages held in body zones such as legs, buttocks, hamstrings, heart and shoulders. This rejuvenating and releasing experience enhances your understanding of the energetic aspects of yoga and how to use it for yourself and others as one of the most profound healing modalities you will ever encounter.
• Explore the anatomy of energy and how it becomes blocked
• Use a variety of prop and partner assisted yoga postures to intensify energy flow and encounter energetic holding patterns
• Learn about the chakras as a map to our personal evolution and how yoga therapy poses can be used to open stagnant energies
• Discover how to healthfully integrate and release emotions for yourself and others
• Use various experiences to connect with and learn to listen to the energy of the body and what it is saying to you
• Learn how to lead a yoga therapy class with partner and prop supported assists
In this training you will learn how to give individualized yoga therapy sessions as well as group yoga therapy classes. A reduced schedule for two and a half days mid-training allows for integration time, supervised practicum and time to practice with one another. This training can be used as a powerful tool for your own personal journey.
---
Yoga therapy creates:
• The opportunity to re-program mental and emotional patterns that produce dis-ease
• Improved posture and range of motion
• Reduction of chronic pain and tension
• Long term restoration of body function after injury or surgery
• Increased energy, Mental clarity, emotional balance and assistance to transform unhealthy thinking patterns
---
Required Reading:
Body Mind by Ken Dychtwald
Focusing by Eugene Gendlin
Suggested Reading:
The Pathwork of Self-Transformation by Eva Perriakos
Emotional Clearning by John Ruskan
Lead Teacher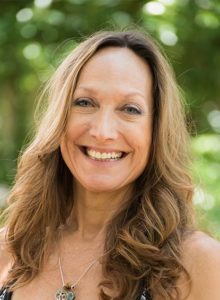 Chitra Marie Bailey
Senior Training Faculty "Chitra" Marie Bailey, Psy. D. is a senior faculty member at the Amrit Yoga Institute in Salt Springs, Florida where she is a trainer in the Amrit Method of Yoga Therapy and Amrit Method Yoga Nidra Professional Trainings. She has a Doctorate in Clinical Psychology and spent 16 years in her first career as a psychologist. She holds several Amrit Method certifications including I AM Yoga (ERYT-500), Yoga Nidra, and Amrit Yoga Therapy. She is a certified member of the International Association of Yoga Therapists (C-IAYT). A Yogi through and through, Marie fell in love with the Amrit Methods when she first met Gurudev and his daughter Kamini in 2009. Marie is a practicing Yoga Therapist, Yoga Nidra facilitator, and Yoga teacher. She currently lives in Chandler, AZ.
Learn more about Chitra Marie Bailey