The Spiritual Dimension of Reiki
with Devdasi and Mohan (Audrey and James Pearson)
May 12 - 13, 2019
Level 3 SHINPI-DEN, 
The Spiritual Dimension of Reiki: The Mystery Teachings
Pre-req Reiki 2 or higher from all Reiki Traditions
Reiki 2's or higher from Devdasi & Mohan's previous Reiki training at AYI, receive an additional reduction of $50 with previous certificate or date of certification. Ask about a coupon code before registering. 
SUNDAY MAY 12th
Across the Street from the Amrit Yoga Institute at the AYI Church Annex.
Room and Board if required on Campus at AYI.
Tuition: $450pp
Add $80 per person per night for Full Room & Board at Amrit Yoga Institute
Program Schedule:
7:00-8:00am Optional Gentle Yoga with Devdasi at the AYI Annex
8:30 – 9:30 am Breakfast on AYI Campus
9:45am – noon First Session Mawashi; Gendai Reiki Reiju, Reviews Levels I & II in Japanese Historical Reiki-AYI Annex
12:15-12:45pm Yoga Nidra With Mohan at the AYI Annex
12:30-1:30 Lunch ~ AYI Campus
1:45pm – 5:15pm Second Session Sit for 3 Master Attunements between Self-Purifying Giho and empowerments with the Master Symbol (Techniques) ~ AYI Annex
5:30 – 6:30pm Dinner ~  AYI Campus
7:00pm – 9:00pm Learn, give and receive Gendai Reiju, the Reiki energy transmission/blessing.
Questions and Answers and Certification, Mawashi, AYI Annex
8:00am Breakfast. AYI Campus Monday Morning Satsanga when Gurudev is in the House, Check out or stay longer as an integrative Retreat
Departs after Monday Satsanga and Lunch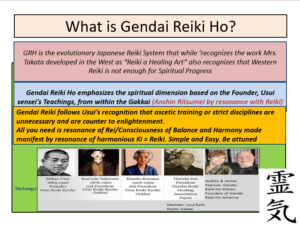 Lead Teacher