Mahasamadhi
with Chandrakant
December 27 - 29, 2019
Mahasamadhi is the celebration of Swami Kripalvanandji (Bapuji) and our lineage. During this time we honor Bapuji's passing in sharing his life stories and teachings which ignite the love for deepening our own practice. Come join us as Chandrakant and other disciples share the history of our lineage of love. We will share letters written from Bapuji directly to Gurudev, from the new book "Letters from Swami Kripalu: Personal Correspondence from HH Swami Kripalvanandji to Yogi Amrit Desai 1966-1973."
Chandrakant will be leading you through morning practices and expressing his devotion and love through chanting, drumming, ritual and personal stories of his days at Kripalu with Bapuji.
You will feel Bapuji's unbounded love and commitment to his practice as we meditate, study, share stories of Bapuji and chant together
Learn the history of Dadaji (Lord Lakulish) and our lineage
Experience the practice of puja- the ritual of love and devotion.
Come learn about our lineage of love and the practice of connecting to the source of love within. What better way to start the year than with love.
Lead Teacher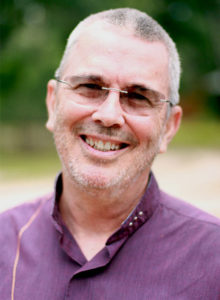 Chandrakant
Yogacharya, Meditation in Motion™ Lead Revealer Chandrakant is a senior teacher and seminar leader at the Amrit Yoga Institute in Salt Springs, Florida. He prepares, presents and leads professional trainings both nationally and overseas in the Integrated Amrit Method, Amrit Yoga, Amrit Yoga Nidra and the Quantum Breath Meditation, as well as a variety of other yoga and stress-reduction based programs. For the last eight years, Chandrakant has been instrumental in developing and presenting programs for the Amrit Yoga Institute. As a student and practitioner of yoga and meditation with Yogi Amrit Desai for almost forty years, his experience has given him a solid foundation for implementing programs that nurture and encourage positive changes in behavior and understanding through direct perception. In 2008, Yogi Desai bestowed upon Chandrakant the title of Yogacharya, preceptor of Yoga. This is the same title that Swami Shri Kripalunanda bestowed upon Yogi Desai in 1972. Chandrakant…
Learn more about Chandrakant