Enlightenment Intensive
with Durga Patricia Carroll
March 7 - 11, 2019
"Self-Inquiry directly leads to Self-realization by removing the obstacles which make you think that the Self is not already realized."  -Sri Ramana Maharshi
In our work, the word "enlightenment" refers to a breakthrough of consciousness into Truth or Absolute reality that is a non-dualistic awakening, a non-separative seeing into one's true nature as Sat-Chit-Ananda (truth, consciousness, bliss). The unity, perfection, and wholeness of all that is can be realized through your own direct experience.
The Uniqueness of this EI Retreat
The creator of this work, Charles Berner, known by Swami Kripalu and Gurudev Shri Amritji as "Yogeshwar," found with hundreds of participants that if the given technique for contemplative inquiry is done diligently with one-pointed focus for 2-3 days, the mind will usually dissolve and enlightenment is quite likely to occur. Each participant works on one question for the duration of the retreat: "Who am I?", "What am I?", "What is another?", or "What is life?". This focuses the mind like a koan which is not meant to bring an intellectual or conceptual answer, but a direct experience of Reality.
In this retreat, you will benefit from:
Focused self-inquiry within using a technique combining contemplation & communication with deep listening and contact with another.
Learning in a safe supportive environment to be fully present to what is & to communicate to another from that place with an open heart.
Practicing alternatively doing your own inner work with being present unconditionally for another while tuning out distractions around you.
Watching the process clear the mind, dissolve old identities, beliefs & concepts, and bring insights and realizations.
Surrendering into the unknown as you directly experience who/what you/life/another is.
Also Included in This Retreat
Upon registration you will have a private pre-EI phone interview with Durga to confirm appropriateness of this work for you at this time and to answer any questions you may have
Enjoy an I AM Yoga® Class at 4 pm on the first day
Experience a I AM Yoga Nidra™ session during your final morning integration before lunch and your travels home
You will be invited to participate in other opportunities with Durga post EI for further integration and support
Upon registration, an Orientation Letter will be sent to you with further details
The Daily Schedule
Day 1 registration is from 1-4 with an optional I AM Yoga® class at 4 pm, dinner, and evening orientation time. The three primary retreat days are long but you are supported by a loving well trained Master and Staff for all that is needed to optimize breakthrough.
Days 2, 3 and 4 are intense, however, the benefits of the work are immeasurable. Three healthy vegetarian meals and two snacks are served to sustain the body. Two walks during the day plus a small exercise period occur to break up the sitting. There is an hour rest period during the day to help revitalize you and a time for movement to music and chanting as well as a sitting meditation period. It is a bit monastic, beautifully so- with deep inner focus, removal of distractions, and silent contemplation when you are not in dyads or speaking to staff. In a given 45 minute cycle of contemplation/communication and deep listening, two people work together alternating as listener or inquirer in a dyad structure. Each exercise brings a change of partners to dyad together. These enlightenment exercises using a simple technique are the foundation of the work.
Your last day focuses on integration ending by 12PM. You are welcome to stay for lunch.
Leader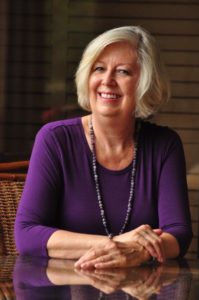 Durga Patricia Carroll
For five decades yoga has been a close companion and drawn her to many beautiful teachers, including Gurudev Shri Amritji. Later in life after Kripalu yoga teacher training, she found herself benefiting from taking and giving Enlightenment Intensive Retreats every 3-6 months. In July 2004, she received her EI Masters Training Certification from Lawrence Noyes, a long time student of EI originator Charles Berner (Yogeshwar). Taking self-inquiry retreats has become a way of life. It is deeply evolving her own consciousness while allowing her to be in service facilitating the work for others, which she says is "like watching the Divine unfold and flower before your own eyes." Durga is honored to have been asked by Gurudev to offer this incredible retreat opportunity for personal self-discovery of who/what you truly are, right here at AYI. Visit Durga's Blog >>>
Learn more about Durga Patricia Carroll