Being Radiant: A Women's Retreat
with Radha Sandy Gillen
March 26 - 29, 2020
The Art of Body Mapping: A Transformational Retreat
Imagine if you could live the life of your dreams and step into the fullest expression of who you are and why you're here!
Do you feel ready to embrace this 'You' with passion, to truly thrive and shine!
'Being Radiant' is a state of grace. The inner light of consciousness dispels the darkness of illusion and fear; one becomes luminous.
Your inner radiance effortlessly emerges with this deep dive into the creative process of Body Mapping. This guided journey unearths the buried treasure of your Soul and honors the body as the 'wisdom keeper.' It is here that your story is held as the key to your healing and transformation.
Join Radha on this truly unique and inspired adventure of Body Mapping within a timeless circle of Yogini's, of Women like you, yearning to know the sanctuary of their Soul.
-Trace your body as a sacred act. Paint, draw, write, doodle, opening yourSelf to spontaneous flow of energy that reveals your deepest inner knowing.
-Adorn your Body Map in devotional ritual to see the indwelling Presence and external manifestation in an entirely new way.
-Fall completely in love with yourSelf; body, mind, heart and Spirit.
If you feel the call to access your limitless potential and live your most amazing life, this retreat offers the opportunity to:
Let go of limiting beliefs through spontaneous creative release
Come home to yourSelf as Whole and complete now, in the rise of the Divine Feminine
Receive Darshan with Gurudev Shri Amritji
Embrace your sacred essence as you discover the truth hidden within your own body as a Temple of the Divine
Take a deep creative dive into your inner world with self exploration, art, intuitive painting, flowing movement, yoga and meditation
Receive personalised guidance on the Body Mapping process before, during and after the retreat from Radha
Melt into the bliss of heart opening devotional rituals
'Being Radiant Body Mapping' will help you to recognise the Spiritual Creative that you are, opening channels of energy and embodiment. No artistic ability is required, anyone can do this 💜
The world needs the magnificence that shines within each and every one of you, to be claimed! Loved! And shared!
It's your time to know yourself as sacred and holy, to own your inner radiance and embody your true essence.
Say yes to YOU and your Divine purpose!
"The body reveals that which the mind refuses to recognize. When you learn to listen to the body's signals, it will reveal the secrets of health and happiness."
Gurudev Shri Amritji
Lead Teacher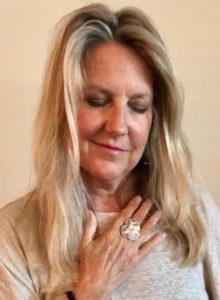 Radha Sandy Gillen
Radha Sandy Gillen, RYT500, is a deeply creative spirit, artist and designer. She has dedicated the past 19 years to the study, application and sharing of the authentic yogic teachings passed down by Gurudev Shri Amritji.  She is the creator and facilitator of the 'Be Moved', 'Chakras in Motion' and 'Heart to Art' workshops which she shares both locally and internationally.  Transformative Workshops for Women have been the focus of her offerings, with Dancing AS the Divine Feminine, Embodying the Divine Feminine and the Goddess Retreat.  Radha is a certified facilitator of the powerful process of Body Mapping, a certified Dancing Mindfulness facilitator and proud to be an emissary of the Amrit Yoga Lineage.
Learn more about Radha Sandy Gillen