I AM Yoga Nidra™ Advanced Training at SWIHA
With Kamini Desai, Ph.D
September 25 - October 2, 2020
Spirit of Yoga – Southwest Institute of Healing Arts' new, dedicated Yoga Teacher Training facility
Yoga Nidra V – Advanced Techniques Part I: September 25-27, 2020
Build and deepen your Yoga Nidra practice by delving deeper in the kosha and exploring how the Wisdom Body is the key to breaking internal patterns.
Yoga Nidra VI – Advanced Techniques Part II: October 2 -4, 2020
Learn to use Yoga Nidra protocols for those seeking emotional integration and solutions for trauma, PTSD, and energetic blockages, as well as for children.
---
Yoga Nidra, or "psychic sleep," is an ancient practice that allows the body and mind to enter into a deeply relaxed state with the intention of bringing the conscious mind into harmony with the subconscious and unconscious. Essentially, while the body enters a state of sleep, the mind is guided into a place between sleep and wakefulness in order to accept positive instructions from a facilitator. These instructions are meant to promote mental healing through the power of unconscious visualization, pranic healing through the flow of light and energy in the body, and an increased sense of will power and resilience.
This powerful technique of synchronization has been shown to be useful in eliminating the root causes of negative thinking and stress. Through the perspective gained in Yoga Nidra, we may reduce the impact of tension-related disorders like hypertension, depression, insomnia, asthma, anxiety, chronic pain, digestive illnesses, and much more. Yoga Nidra is also shown to be highly effective in training the mind to access its natural well of creativity, problem solving, memory faculties, and learning abilities.
In learning to facilitate Yoga Nidra through SWIHA's Certificate of Excellence program and by making it a routine practice for yourself, you will be able to help yourself and others employ much needed relaxation techniques to find freedom from fear, conflict, pain, and suffering.
Lead Teacher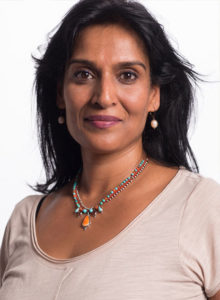 Kamini Desai, Ph.D
Yogeshwari Kamini Desai, PhD is the Executive Director of the Amrit Yoga Institute. Over the past 30 years Kamini, author of Yoga Nidra: The Art of Transformational Sleep, has created an exciting and unique body of teachings incorporating western psychology, eastern philosophy and science. Considered an expert in Yoga Nidra Meditation, relaxation, yoga therapy and artful living, her practical and accessible teaching style is welcomed worldwide. In 2012 she was awarded the title Yogeshwari (woman of yogic mastery) for her keen ability to bring ancient illumination to the genuine challenges of the human experience. Her teachings have benefitted employees at Sony, Kelloggs, KPN Telecom, Mars Confectionery, the Department of Corrections and Departments of the Netherlands Government. Learn more about Kamini Desai, Ph.D
Learn more about Kamini Desai, Ph.D