I AM Yoga® Advanced: Meditation in Motion – Certification Only
with Chandrakant
February 12 - 21, 2021
Meditation in Motion
Consciously Cross Over From Physical Yoga To The Yoga of Prana
Using the lens of correct knowledge and direct experience, this Immersion transforms yoga sadhana into a yogic way of life attuned to the energetic expression of the vital life force of prana. This advanced training builds on the I AM Yoga™ Teacher Training Posture of Consciousness format and enables you to "consciously-cross-over" from the willful practice of postures to a dynamic blend of willful postures and spontaneous movements prompted by the inner urgings of prana.
The training incorporates:
Two daily Sadhana sessions
Simple breathing techniques to cultivate an attunement to prana
Specific techniques to help you connect with the natural intelligence of prana
Understand & experience the deeper energetic meaning of the yogic scriptures
Part 2: Meditation in Motion Certification
This training provides a unique energetic group setting to support and nurture the cultivation of the attunement to prana experienced in the I AM personal sadhana Immersion. It reveals the innermost depth of I AM Yoga® where you experience Pranakriya; the harmonious interplay between energy [prana] and the mind [chitta].   The certification component provides the understanding, techniques and direct experience necessary to layer I AM Yoga™ onto any style of hatha yoga.
Leader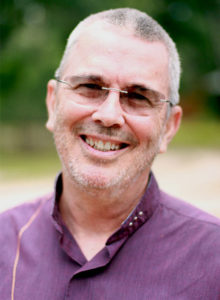 Chandrakant
Yogacharya, Meditation in Motion™ Lead Revealer Chandrakant is a senior teacher and seminar leader at the Amrit Yoga Institute in Salt Springs, Florida. He prepares, presents and leads professional trainings both nationally and overseas in the Integrated Amrit Method, Amrit Yoga, Amrit Yoga Nidra and the Quantum Breath Meditation, as well as a variety of other yoga and stress-reduction based programs. For the last eight years, Chandrakant has been instrumental in developing and presenting programs for the Amrit Yoga Institute. As a student and practitioner of yoga and meditation with Yogi Amrit Desai for almost forty years, his experience has given him a solid foundation for implementing programs that nurture and encourage positive changes in behavior and understanding through direct perception. In 2008, Yogi Desai bestowed upon Chandrakant the title of Yogacharya, preceptor of Yoga. This is the same title that Swami Shri Kripalunanda bestowed upon Yogi Desai in 1972. Chandrakant…
Learn more about Chandrakant