Kavi Sangeet Bhakti
With Stuart Sovatsky, Ph.D and Indranil Mallick
May 28 - 31, 2020
Program Description
Creating Meaningful Lives of Great Feeling in Words and Music
Hosted by Stuart Sovatsky PhD, Author of the Amazon bestseller "Advanced Spiritual Intimacy"
Drawing from the ways of the poet and indian and western music, we explore how to deepen the emotional and felt-meaning of the lives we have already lived as family-members, friends to and with others, as students and, perhaps most beautifully of all, as human-beings.
Every family, relationship, and activity reveals that it is indeed holy when viewed via Bhakti devotion.
We will tell stories and learn how to convert the events of our lives into everyday heroic moments by how we put them into evermore beautiful and inspiring words. We become the Kavi [poet-yogis] of our own enlightenments of deep-feelings.
We bless each other in holy forehead bhakti anointment of nyasa. We will practice mantra, asanas and pranayama as poignantly as any tear-brimming wedding, filled with the profundities of prayer and of prana, the breath which is life itself.
We chant with dazzling world-level musicians and burn holy ceremonial fires of consecration to our parents, children, children-to-be, deceased relatives, friends and ancestors. New marriages are most welcome! Just let us know your intentions!
We give thanks to everyone imaginable and well-up with depths of self-pride as Walt Whitman sang, "I did not know I held so much goodness. All seems beautiful to me."
We will overcome our sorrows by seeing into their depths. We will tell the silliest stories that have ever happened in our lives.
By the close of our bhakti retreat of deeply felt meaning, we will have redeemed our humanity just as it has been and is. We will have new friends and deepened old ones. We will feel ourselves going forward into our futures energized with the ways of the poet now inside of us, the vibrations of holy kirtan far-beyond what we may have previously believed ourselves capable of. We will be whole and wondrous to ourselves and to one another.
Please check page frequently for new musicians, poets and artists.
Lead Teachers
Stuart Sovatsky, Ph.D
Scholar-in-Residence Stuart (Piyush) Sovatsky brings a heart-centered wealth of knowledge through his own personal experience of our lineage as well as a lifetime of experience as a leading psychologist, bestselling author, researcher and lecturer. Degreed in Religion from Princeton University with contracted publications with Columbia University Press and SUNY Press, Stuart has created events with The Office of the Dalai Lama, Sri Sri Ravi Shankar, BKS Iyengar and Robert Thurman. Widely respected for 45 years of clinical experience with "spiritual emergence" and as a pioneer of "incarceration yoga" recognized by Ram Dass Prison Ashram, he is an Acharya (spiritual leader) on tantric and bhakti yogas, kirtanica and is called around the globe to lead others in his depth of wisdom, including private audiences with the Chair of Unaligned Nations of the World and with post-apartheid South African Healers. He is an expert on the history of the Lakulish-Kripalvanand-Desai Shaktipat Lineage…
Learn more about Stuart Sovatsky, Ph.D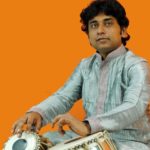 Indranil Mallick
Tabla virtuoso INDRANIL MALLICK blends power, speed and a unique tonality as he makes the pair of percussion drums indulge in a magical dialogue with the SITAR. Widely acknowledged as a leading TABLA-PLAYER of his generation, Indranil's reputation has spread across India, USA, Canada & Europe. His recent collaboration with MILES DAVIS ELECTRIC BAND reflects his creativity in the area of WORLD MUSIC. Talent, virtuosity and youthful dynamism blend in perfect proportion to project INDRANIL MALLICK as a leading TABLA-PLAYER of his generation. Intensive training since the age of 5 under eminent masters including uncle MONTU MALLICK, Prof DHABOL BANDYOPADHYAY, Shri UTTAM CHAKRABORTY and currently, Maestro Pandit SWAPAN CHAUDHURI have shaped INDRANIL's rich repertoire and justify his reputation in the national & international arena. INDRANIL has also distinguished himself in cross-over collaborations with western musicians including a recent project with Miles Davis Electric Band. INDIAN RADIO & TELEVISION have awarded INDRANIL…
Learn more about Indranil Mallick