I AM Cooking: 3-day Vegetarian Cooking Workshop
with Chef Craig Cavaluzzi
November 13 - 15, 2020
3-day Vegetarian, Conscious Cooking Workshop
First course in a unique series to study and learn directly with Craig Cavaluzzi, Master Vegetarian Chef.
In the Amrit Yoga Kitchen with  Chef Craig you will gain proficiency in the following important fundamentals:
Knife Skills
Essential Spice Basics
Energy Considerations
Nutritional essentials
Classic Indian Dahl preparation
Vegetable Dishes made easy
Menu planning
Spontaneity
Creativity
Spiritual attitude mindset
Essential building blocks
The spiritual and energetic aspects of the practitioner (person preparing the food) will be discussed and explored as an imperative in the integrative cooking experience, and revealed as the true source of creativity. The outcome being food you love to eat and food that serves your body, mind and spirit.
Lead Teacher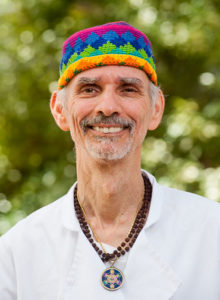 Chef Craig Cavaluzzi
Chef Craig has been practicing his culinary skills for more than forty years and has been combining his cooking skills, along with staff mentorship on the spiritual aspects of cooking, at the Amrit Yoga Institute for the last two years. He has worked in a variety of restaurants, large and small, and catered for myriad occasions with his own company, Healthy Meals Catering. A great majority of his time and experience has focused on and specialized in vegetarian cuisine. It is Chef Craig's view that any sincere individual who utilizes fundamentals, through time and application, will progressively improve and expand their culinary skills.
Learn more about Chef Craig Cavaluzzi