Awakening Christ Consciousness
with Gurudev Shri Amritji and Alex Coley
April 9 - 12, 2020
Gurudev Shri Amritji reveals the relationship between Christ Consciousness and the Yogic Path
Amritji reveals the relationship between Christ Consciousness and the Yogic path during this beautiful weekend program. Christ consciousness was never born and never dies. Christ revealed and demonstrated the indwelling, awakened divinity of potential consciousness that we innately are.
Christ was not his personality. He attained the highest state of consciousness, the same consciousness that anyone can attain. He said, "Ye shall do everything I have done and more." Every one of us has the potential to be awakened to Christ consciousness and experience miracles of healing and transformation.
Christ reached the ultimate state of Samadhi. His core teachings, explored in this program, reveal the depth from which he speaks.
---
Features & Benefits
Experientially and intellectually learn tools to connect to Christ Consciousness through the medium of Prana-Shakti.
Elevate yourself to the level of consciousness where you directly experience the Oneness Presence that you are
Enter the innermost core of stillness, tranquility, peace, and love that Yoga is
Change the way you look at yourself, others, and the world.
"When you change, the whole world changes with you."

~Gurudev Shri Amritji
In this program, we will explore how to recognize who we really are.  What is holding you back is not who you are. The soul being within each one of us was never born and will never die. It is the ultimate source of the entirety of creation.  If we understand Christ in this context, there is a real possibility for you to embody the celebration of the Being that 'Christ Consciousness' represents.
---
Testimonials
"The vibration and energy felt throughout the program and loving community is palpable"
~David R.
Lead Teachers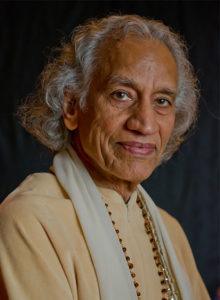 Gurudev Shri Amritji
Founder, Spiritual Director, Pioneer of Yoga in the West Gurudev Shri Amritji is the first carrier of the Lord Lakulish and Kripalu Shaktipat Lineage to the West. Over the years his charismatic presence and powerful teachings of this Lineage of Prana have spread worldwide. His teachings through this Shaktipat Lineage ignited the fire that began the initial renaissance of the Inner Dimension of Yoga in the 20th century. In the last 58 years, Amritji has founded some of the largest yoga and health centers in North America. Today there are more than 10,000 yoga, yoga nidra and yoga therapy teachers, teaching the inner dimension of yoga he developed, in more than 45 countries. Amritji resides in the thriving international Amrit Yoga Center he founded in Salt Springs, Florida.
Learn more about Gurudev Shri Amritji