Breath for Life: The Basics & Beyond
With Devarshi Steven Hartman and Gurudev Shri Amritji
March 31 - April 3, 2020
 4-Day Pranayama Immersion
Join Devarshi Steven Hartman and Yogi Amrit Desai for this unique and unforgettable combination of teachings, experiential guidance and knowledge.   These two remarkable teachers, join their skill and lifetime commitments to yoga practice to draw you into the deepest experiences of yoga through an immersion into breath as the doorway to the beyond.  Patanjali, in his eight-limbed path, describes Pranayama as the gateway to the deeper states of concentration (Dharana), meditation (Dhyana) and bliss (Samadhi). During this pranayama immersion you will be supported and guided into extended practice creating profound experiences that shift your awareness with ease to states of presence and contentment.  The keys to states of prolonged quiet, inner obstacles being unlocked and released, new energy and vitality, all lay dormant in our sacred breath.
Devarshi was initiated by Yogi Amrit Desai as a student of yoga, almost four decades ago, and through Yogi Desai's guidance and longtime residential ashram lifestyle, Devarshi has trained thousands of students to become yoga teachers around the country.  Yogi Amrit Desai holds the place in history of being one of the most influential teachers bringing yoga to the west with his unique understanding, style, depth skill, and illumination.  At 86, Yogi Desai's life experience and yoga dedication is unparalleled.  He is a masterful teacher who embodies and transmits the energy of his potent loving presence and intuitive wisdom – the true product of yoga.
Together these two outstanding teachers will blend their rare experience and education, humor, story-telling, and extraordinary relationship while creating an unparalleled yoga environment for you to transform in.
You will invigorate, rejuvenate, and energize your cells and consciousness in this five-day immersion program where you will learn and practice ancient purifying pranayama techniques. Come ready to raise the roof on your prana and have your body vibrating with powerful healing energy and oxygen.  Also come ready to release emotional stagnation and reduce the effects of stress and tension, culminating in the deepest meditation experiences you have encountered so far. The clarity gained from these simple, time-proven techniques will shift the way you experience yourself and the world, and will have you break up habitual, indoctrinated, unconscious patterns that may be holding you back.
The practice of pranayama is the heart of all yoga practice.  Pranayama is the doorway to meditation, and the anchor to true presence in your body or asana practice. Through conscious breathing techniques, you form new pathways in the brain that place your Highest Self in charge of your attention able to direct your full energy into the experiences you desire.  The goal of experiencing "ATHA" (NOW) fully, without distortion, is what Patanjali says is the aim of all yoga – union with what is.  Pranayama practice is the safest, quickest way to recover the lifeforce that lies dormant or suppressed.
Yogi Desai and Devarshi will guide you through many experiences that will catapult you to the next level of yoga knowledge and experience, creating more peace, love and wisdom within.
In this training you will:
Learn and practice the six basic pranayama techniques that yogis have been using for centuries.
Learn how to combine these pranayama tools to move personal energy towards the desired result; increased energy, release, balance or calm.
Immerse yourself in experiencing Yoga's ancient map of The Koshas as the pathway to personal transformation and authenticity.
Learn new tools for training and directing your attention to experience what you desire
Experience going beyond the "common" mind and ALL your belief systems to a realm of being "beyond belief"
Recommended text: Prana and Pranayama by Swami Niranjanananda – Bijar School of Yoga
Lead Teachers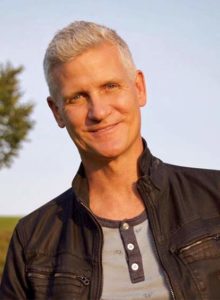 Devarshi Steven Hartman
ERYT, Founder of Pranotthan Yoga School, former dean of the Kripalu School of Yoga and former Director of Professional Trainings at Kripalu Center for Yoga and Health.  Devarshi has been a yoga student and teacher for over 40 years. Devarshi is the creator of two best-selling audio series The Essence of the Bhagavad Gita, and Satori – Simple Secrets to Inner Peace produced by Nightingale-Conant.  Devarshi lives in Palm Springs, CA and leads workshops and retreats around the country, teaches Pranotthan Yoga Teacher Trainings at the 200-hour, 500-hour levels and maintains his private practice in Life Coaching and healing Bodywork.  Devarshi is currently committed to making a difference in the lives of men and works in the realm of recovery and trauma Monte Recovery Center in Desert Hot Springs, CA.
Learn more about Devarshi Steven Hartman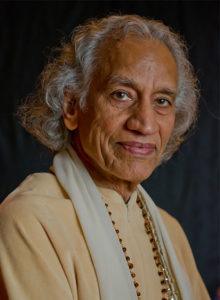 Gurudev Shri Amritji
Founder, Spiritual Director, Pioneer of Yoga in the West Gurudev Shri Amritji is the first carrier of the Lord Lakulish and Kripalu Shaktipat Lineage to the West. Over the years his charismatic presence and powerful teachings of this Lineage of Prana have spread worldwide. His teachings through this Shaktipat Lineage ignited the fire that began the initial renaissance of the Inner Dimension of Yoga in the 20th century. In the last 58 years, Amritji has founded some of the largest yoga and health centers in North America. Today there are more than 10,000 yoga, yoga nidra and yoga therapy teachers, teaching the inner dimension of yoga he developed, in more than 45 countries. Amritji resides in the thriving international Amrit Yoga Center he founded in Salt Springs, Florida.
Learn more about Gurudev Shri Amritji