Golden Triangle Tour
"India's Most Popular Tour"
January 28 – February 3, 2020
21-Day Package (Jan 21-Feb 10)
The Power of Scripture in Practice at the Kripalu Samadhi Mandir, Malav (Jan 21-Jan 27)
Sacred Lineage Tour with Gurudev Shri Amritji & Kamini (Kayavarohan Temple, Krishna Cow Sanctuary where Gurudev first met Bapuji & Gurudev's childhood village of Pratappura) 
India's most popular tour - Golden Triangle - including Jaipur, Agra (Taj Mahal), Delhi (Jan 28-Feb 3)
Awaken the Power of Prana Shakti with Live Music at the Jim Corbett National Park-Tiger Reserve (Feb 4-Feb 10)
Option to relax at Malav or on your own (Jan 28-Feb 3)
Option to travel with AYI staff escort to/from India (Jan 19-Feb 12)
 *Program begins Jan 21 at 4pm at Malav and ends at noon on Feb 10th at the Jim Corbett National Park
**Check in begins Jan 20 and ends Feb 11th (early check in and late check out options available)
Jaipur
The walled city of Jaipur, known for its iconic architectural legacy and vibrant culture, was recently declared as a World Heritage City by UNESCO. Jaipur is the capital and the largest city of the Indian state of Rajasthan. It evokes the royal family that once ruled the region who, in 1727, founded what is now called the Old City, or "Pink City" for its trademark building color.
Your trip through Jaipur will include:
Visit to Hawa Mahel, also known as "Palace of Breeze".
Trip to Amber Fort, one of the most well-known and most visited forts in India.
Optional elephant ride.
Chokhi Dhani, capturing the vibrant spirit of Rajasthan and ensuring a perfect Rajasthani experience.
Stay at the Umaid Bhawan – A Heritage Styled Boutique Hotel.
Authentic Rajasthani food & ample time for shopping. Shopping in Jaipur is considered to be one of the most fulfilling past times in the world. This is because Jaipur is a rich repertoire of rare and unique products.
Bharatpur Bird Sanctuary & Agra
On route to Agra, stop at Hotel Regenta Bharatpur for a leisurely lunch with the option to visit Bharatpur Bird Sanctuary for a visit. Amongst one of the finest bird sanctuaries on the planet, Bharatpur Bird Sanctuary, also called Keoladeo Ghana National Park, is a sanctuary that offers security to faunal species. Keoladeo gets its name from an old Hindu temple, which is dedicated to Lord Shiva, and remains the focal point of the national park. "Ghana" implies thick, alluding to the thick woods, which used to cover the region.
Agra is a city on the banks of the Yamuna river in the Indian state of Uttar Pradesh
and home of three UNESCO World Heritage sites, the Taj Mahal, the Agra Fort in the city, and Fatehpur Sikri.
 Your trip to Agra will include:
A visit to the Taj Mahal: one of the most beautiful buildings in the world. It was constructed entirely out of white marble in the 17th century and is among the finest edifices of Mughal architecture. Recognised by the UNESCO as a world heritage site, this monument is also considered to be one of the seven wonders of the modern world.
Overnight stay at Hotel Howard Plaza, The Fern: A 5 Star Hotel
New Delhi
The tour ends with 3 leisurely days in Delhi in an urban district which serves as the capital of India. Delhi is of great historical significance as an important commercial, transport, and cultural hub, as well as the political centre of India. According to legend, the city was named for Raja Dhilu, a king who reigned in the region in the 1st century BCE. In your stay here you will enjoy luxurious accommodation and the rich, vibrant street life and shopping opportunities.
Your trip to Delhi will include:
Akshardham Temple, the largest Hindi temple in India and one of the most visited sites in Delhi. The entire complex spreads over 23 acres and includes parks, rides, lakes, sculptures and shrines that collectively describe the entire experience of India's rich heritage and culture.
Stay at a five-star accommodation, The Lalit Hotel, situated near the center of Delhi known as Connaught Place, known for shopping; a foodie's delight and a culture buff's destination.
Optional visit to Dilli Haat, an open air bazaar and food plaza, where artisans come to sell their wares.
Optional visit to Baha'i Temple, i

nspired by the 

lotus

 flower, its design is composed of 27 free-standing, marble-clad "petals" arranged in clusters of three to form nine sides.
registration options
Registrations close November 15th! Don't miss the deadline!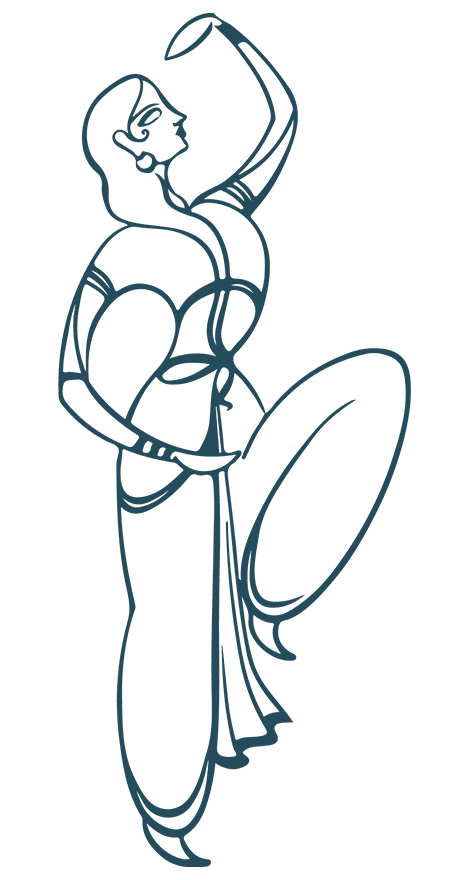 21-Day PACKAGE: Jan 21-Feb 10
Malav, Golden Triangle Tour & Jim Corbett National Park
Save 10%. Starts at $4350
The Power of Scripture in Practice in Malav (Jan 21-27, 2020)

Sacred Lineage Tour with Gurudev Shri Amritji & Kamini Desai

Golden Triangle Tour (Jan 28-Feb 3, 2020)

Awaken the Power of Prana Shakti, Jim Corbett National Park (Feb 4-10, 2020)

Tuition for two programs included

Meals and housing included

Option to travel with AYI staff escort to/from India (extra charge)

Single and shared double housing options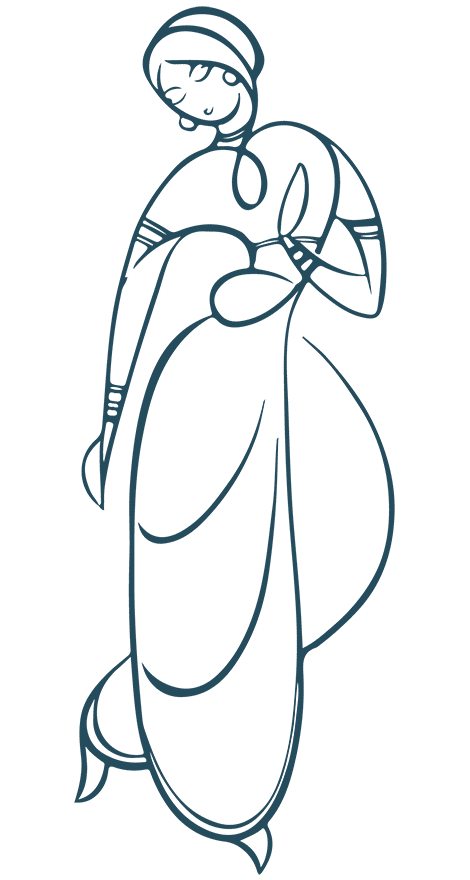 *Original illustrations by Amritji
To combine any 2 segments or customize your trip, please call 352-685-3001
The Power of Scripture in Practice
Kripalu Samadhi Mandir, Malav
Yogic Lifestyle & Scripture Studies

Lineage Tour with Amritji & Kamini

All meals and housing included

Single, shared double & dorm housing options
Golden Triangle Tour
Jaipur, Agra, Delhi
Visit to major sites in Jaipur, Delhi, Agra

Trip to Taj Mahal & Akshardham Temple

Major meals and housing included

Single and shared double housing options
Awaken the Power of Prana Shakti
Acorn Resort, Jim Corbett National Park
Awaken the Power of Prana Shakti

Safari excursion of the National Park

All meals and housing included

Single and shared double housing options
Do I need a Passport and/or Visa to go India? How do I get them?
You need both to enter India.
Your passport must be valid for up to 6 months following your return to the United States (or country of origin) from India and have at least 2 blank passport pages. If you need to acquire or renew a passport, it may take 6 weeks to 3 months to process passport renewal. Start soon by visiting U.S. Passports and International Travel.
There are multiple Visas to select from. Consider the length of your stay in India and then select one of the two options listed below:
If your stay in India is less than 60 days, we recommend applying for an Electronic Tourist Visa (eTV) here: https://visas.travisa.com/india-evisa  The process is faster it is less expensive than a traditional Visa. Note: You cannot subsequently convert this type of visa to extend your stay; if you feel that is a possibility for you, please apply for the Multiple entry Visa directly below.
If your stay in India is more than 60 days, you will need a Multiple Entry Visa: https://visas.travisa.com/traveler-contact-services
Note: Visa applications often request a local address:
The Kripalu Samadhi Mandir
GJ SH 193
Malav, Taluka, Kalol
District: Panchamahals
State: Gujarat
Code: 389340
Country: India
Please visit http://www.kripalusamadhimandirmalav.com/contact/ for more information, noting that addresses in India may not necessarily appear as you are accustomed to.
What airports should I fly in and out of in India?
The Power of Scripture in Practice (Kripalu Samadhi Mandir, Malav): 
Fly into/out of Vadodara (Vadodara International Airport) or Ahmedabad (Sardar Vallabhbhai Patel International Airport). Program starts at 10am on Jan 21st. Arrive by Jan 20th or Jan 19th for early check in ($50 extra).
Pack Light and save room for purchases. At the Kripalu Samadhi Mandir, you can support the local community by having your clothes inexpensively laundered daily.
 Golden Triangle Tour:
We will be leaving Malav on the evening of Jan 27th to fly to Jaipur. If you plan to meet us for the trip starting with the tour, plan to arrive in Jaipur by the evening of Jan 27th. The tour ends in Delhi on Feb 3rd. There is an option to stay at Malav from Jan 28-Feb 2 for $50/night.
 Awaken the Power of Prana Shakti
We will be taking a train from Delhi to Jim Corbett National Park on the morning of Feb 3rd. If you are planning on joining us for this portion of the trip only, please plan to arrive in New Delhi by the night of Feb 2nd.
What vaccinations do I need?
Visit the CDC website for recommended vaccinations. Consult and arrange for vaccinations with your physician. We suggest having at least the MMR, Hep A, Typhoid vaccinations administered. You may inquire about weekly Malaria tablets as well (Mefloqine/Larium or Chloroquine). Please consult your physician regarding medical history, vaccination recommendations, and dosage.
Will my cell phone work in India? Will I have internet access?
In Malav: WiFi is available at Kripalu Samadhi Mandir. You can utilize WiFi calling at all locations where WiFi is available; however, to use a phone without interruption and in areas without WiFi, you may need to get an international sim card or talk service provided in advance. Please contact your cell phone service provider for more information.
 Golden Triangle Tour/Jim Corbett National Park: WiFi will be available on-site and in some local eateries and sites. You may need to get an international sim card or talk service in advance if you wish to make phone calls. There are also several applications available for compatible phones that permit free messaging such as "WhatsApp".
Ready to register? call 352 685 3001
Still have questions? contact our lead coordinator!